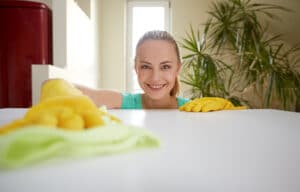 Your dad needs help to remain independent. He struggles to mow the lawn, so you stop by and help each weekend. During your visit, you see all of the other things he can't do independently anymore. You help out as much as you can with the other tasks, but there just are not enough hours.
Your dad feels guilty that he has to rely on you so much. It's time to talk about the options available to him. He doesn't want to move, but he also needs to know he doesn't have to struggle. Home care assistance can help the entire family.
Your Dad Has Help With Housekeeping
Your dad can sweep floors and wipe down counters, but the weight of the vacuum is too much for him. He struggles to vacuum the stairs. Hire caregivers to help with housekeeping. He can have caregivers do the laundry, vacuum carpets, change sheets, and wash the dishes.
You Get Time to Yourself
You work all week and spend both weekend days helping your dad out. You prepare his meals for the week, clean his home, change his sheets, do the laundry, put everything away, and take him shopping. You haven't been able to see your friends in months.
When you arrange home care services for your dad, some of the pressure is taken off your shoulders. You can spend quality time with your dad for a few hours on the weekend, but you have time left to see friends, go out with your spouse, and have time to yourself.
Your Dad Isn't Lonely or Alone All Week
You work all week, and your dad is alone. He doesn't have friends in the area and his neighbors aren't close by. He often calls you during the workday to talk, and you feel trapped as you can't talk.
When he has a home care aide stopping by throughout the week, he gains companionship. He has someone to talk to, and that will reduce his dependence on you for socialization.
You Enjoy Peace of Mind That He's Safe and Staying Social
While your dad is busy with his caregiver, you know he's safe and enjoying the socialization he craves. It gives you peace of mind that he's at home, happy, and not risking his safety trying to do tasks that he's unable to complete without help.
He's not climbing a ladder to try to change a light bulb or dust the ceiling blade fans. He's not trying to carry the heavy laundry down the basement stairs. It's going to make you feel better that he's not taking risks.
Your Dad Has Home-Cooked Meals
When caregivers are helping your dad each day, he enjoys home-cooked meals. He's not having to heat up a frozen dinner or try to cook an entire meal on his own.
You're Not Feeling the Pressure
Finally, you're not feeling the pressure of trying to rush through work to get to your dad's house to cook a meal, and then rush home to clean your home, feed your kids, and do the laundry. The pressure's off.
Talk to an expert in home care assistance. Your dad can have the support he needs without having to worry about burdening his children. Help out when you're free, but don't make your dad feel like he's keeping you from your work, children, or friends. 
If you or an aging loved-one is considering Home Care in Burbank, CA please contact the caring staff at Nu Care Inc. today at. 800-505-6890