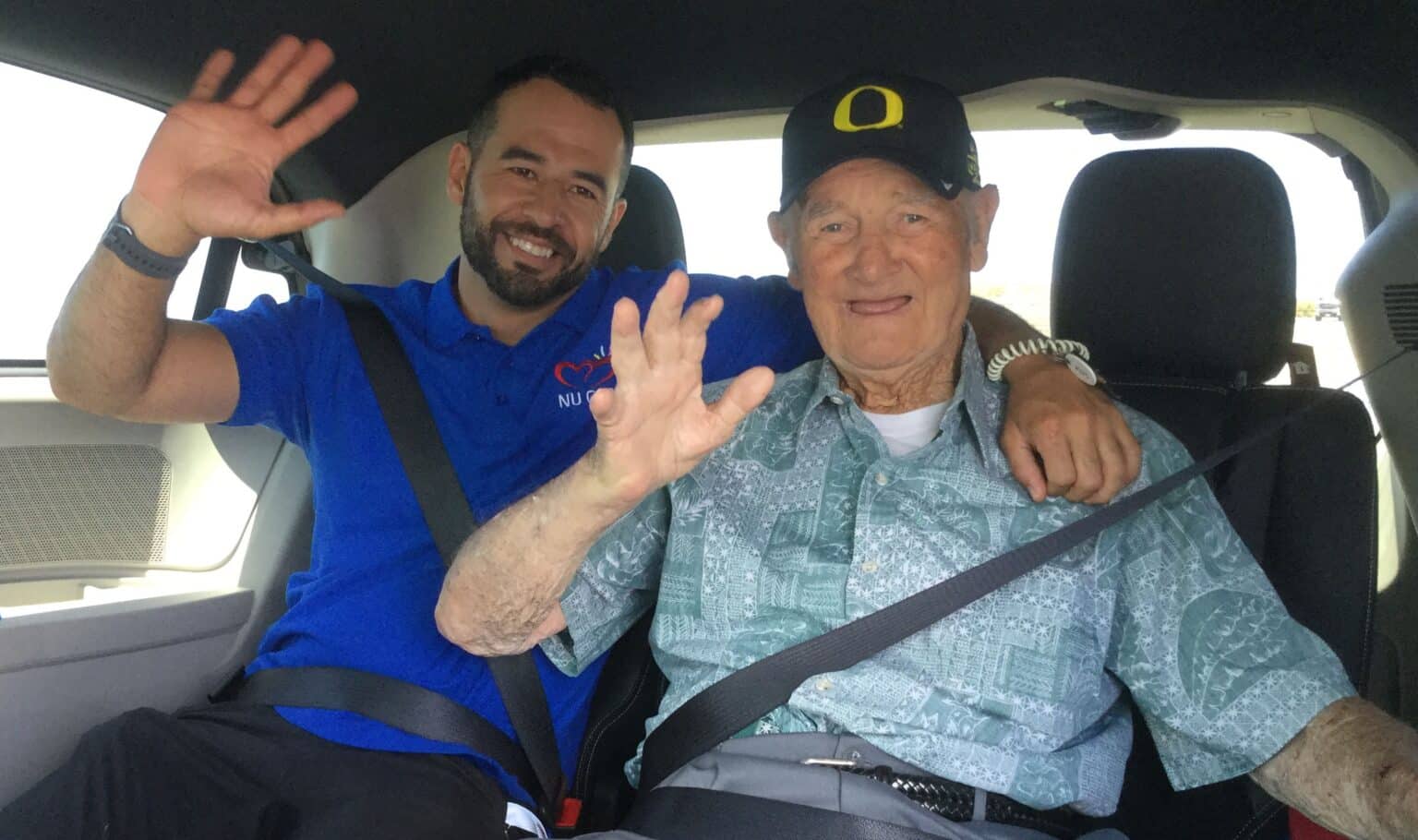 Veteran Home Care Services
Nu Care has proudly partnered with Veterans Affairs  to provide Care for Veterans in two programs:
Homemaker Home Health Aid Program
The Aid and Attendance Program.
Getting older isn't easy, and Senior Veterans face unique challenges, like those with a service connected disability. Most seniors, including Veterans, would prefer to receive personal care from the comfort of their own homes rather than at a nursing home. With Nu Care, you can receive all the help you need while living at home.
Nu Care takes pride in providing the best Quality Care for our Veteran Community to live at home as long as possible.  Each of our caregivers goes through a strict hiring process and is screened above and beyond basic state requirements to be able to provide in home care for our Veteran clients.
If you are a Veteran seeking personal care, we encourage you to check your eligibility below, and contact Nu Care today. Eligible Veterans can use their VA benefits to help with care costs. Nu Care has proudly partnered with the VA in the two following programs:
Homemaker and Home Health Aide Program
The purpose of this program is to provide a limited hour of veterans home care to support Veterans living at home who are accepted to this program and are primarily home-bound. Registered Nurses will make the assessment and the hours will be authorized by the VA office. These assessments will be done semi-annually to keep up with condition changes. (Hours may be adjusted up or down by the program Administration).
"A Homemaker or Home Health Aide is a trained person who can come to a Veteran's home and help the Veteran take care of himself and his daily activities. They are not nurses, but they are supervised by a registered nurse who will help assess the Veteran's daily living needs."
This program is for Veterans who need skilled services, case management, homemaking services, and help with activities of daily living. Examples include help with bathing, dressing, fixing meals, taking medicines, or other daily tasks. This program is also for Veterans who are isolated or their family caregiver is experiencing a burden. Homemaker and Home Health Aide services can be used in combination with other Home and Community-Based Services.
Veterans Home Care Services offered by the program include:
Bathing
Toileting
Feeding
Dressing
Bed Mobility (Positioning)
Transferring or Incontinent Assistance
Light Housekeeping
Assistance with Walking
Meal Preparation
Help with using the telephone and other communication devices
Accompaniment to Public Transportation per Agency Policy
Reports to Family Members Regarding any Changes in Condition
All cases are assessed by one of our Registered Nurses and reviewed every 90 days to maintain the best possible match of trained caregivers we can provide.
Veterans and survivors who are eligible for a VA pension (see last page for some eligibility outlines) and require the aid and attendance of themselves or another person may be eligible for additional monetary payment. These benefits are paid in addition to monthly pension, and they are not paid without eligibility to Pension.
Since Aid and Attendance allowances increase the pension amount, people who are not eligible for a basic pension due to excessive income may be eligible for a pension at these increased rates. (A Veteran or surviving spouse may not receive Aid and Attendance benefits and Housebound benefits at the same time.)
The Aid & Attendance (A&A) increased monthly pension amount may be added to your monthly pension amount if you require the aid of another person in order to perform personal functions required in everyday living, such as:
Bathing
Feeding
Dressing
Attending to the wants of nature,
Adjusting prosthetic devices
Protecting yourself from the hazards of your daily environment
You are bedridden, in that your disability or disabilities requires that you remain in bed apart from any prescribed course of convalescence or treatment
You are a patient in a nursing home due to mental or physical incapacity
Your eyesight is limited to a corrected 5/200 visual acuity or less in both eyes; or concentric contraction of the visual field to 5 degrees or less
Qualifications may include but not be limited to the following:
90 days active duty
At least 1 day of active duty service during a war time
Honorable or General discharge
A chronic illness or condition – cannot drive
Limited financial resources related to medical expenses
Am I Eligible for VA benefits?
You must have served in the active military, naval, or air service.
You must have served 24 continuous months of active duty, unless you were discharged for a disability that was caused or made worse by your active-duty service.
You must have been honorably discharged.
You must have served prior to September 7, 1980.
Eligible Wartime Periods
Under current law, VA recognizes the following wartime periods to determine eligibility for VA Pension benefits:
Mexican Border Period (May 9, 1916 – April 5, 1917 for Veterans who served in Mexico, on its borders, or adjacent waters)
World War I (April 6, 1917 – November 11, 1918)
World War II (December 7, 1941 – December 31, 1946)
Korean conflict (June 27, 1950 – January 31, 1955)
Vietnam era (February 28, 1961 – May 7, 1975 for Veterans who served in the Republic of Vietnam during that period; otherwise August 5, 1964 – May 7, 1975)
Gulf War (August 2, 1990 – through a future date to be set by law or Presidential Proclamation)
What documents do I need to apply? 
You will need:
Your Social Security number, and the social security number of your spouse & qualified dependents.

Your military discharge information.

Your insurance information, including your insurance card, for all insurance companies that are covering you, including any coverage you may get through a spouse or significant other. This also includes Medicare, private insurance, or employer-based insurance.    
Where can I apply for VA benefits?
The simplest way to apply for VA benefits is by completing and submitting VA form 10-10EZ, Application for Health Benefits online. This can be found here:
https://www.va.gov/health-care/how-to-apply/
You may also apply in-person at your local VA medical facility. 
Can I use my current caregiver for VA Benefits with Nu Care? 
Yes, you can use your current caregiver, as long as they are fully onboarded with Nu Care, including fulfilling their licensing requirements.
If you think you may qualify for either or both of these programs please contact our VA specialist Lisa at (949) 427-2120 for more information.
We can assist you in processing your paperwork and providing care.
Nu Care offers Veterans Home Care Services in Orange County & Los Angeles County, with home care offices in Westminster and Glendale.