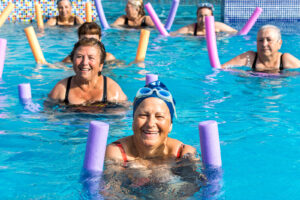 Across the country, many areas have been experiencing heat waves. Daily high-temperature records are being broken in many states. Texas and Oklahoma broke records with respective highs of 110 and 111 degrees F. Missouri broke records with a high of 104 degrees F. That's just a small selection of all of the shattered records.
Amid this heat, you need to ensure your mom is staying cool. The elderly are at risk of heat exhaustion and heat stroke when the temperatures soar. What can you do to ensure she stays cool?
 Install or Inspect Her AC System
Whether your mom has window AC units or central air, make sure they've been cleaned and inspected to ensure they're working efficiently. If they're not, it's a good time to consider upgrading.
If she's never had an AC unit, look for one. You can get a floor unit that has a frame that fits into the window and cools the room it's in. She may worry about the electricity bill.
If she's worried, talk to her electric company about level monthly payments made all year. Her yearly electricity bills are averaged so that she's paying the same amount all year rather than paying more some months and less others. This may give her the peace of mind she needs to run the AC.
Get a Pool
You could purchase a small, inflatable pool and fill it with water. When she's hot, she could go lay in the pool and cool off. The water will need to be drained and topped up from time to time to keep it from getting too warm
If she has a pool or there's a community pool, she should use it as often as she needs to stay cool. If that's not an option, cool baths or showers in her home are the next best thing.
Stay in Damp Clothing
Another way to stay cool when you don't have AC is by getting a t-shirt damp in a sink and wearing it until it's dry. Put on fans in the home, wear the damp shirt, and she'll stay cool while the t-shirt is damp.
Keep Hydrated
Make sure your mom is drinking plenty of water. It may not keep her cool, but it's essential to her health. She should drink an eight-ounce glass of water each hour. If she doesn't like water, keep watermelon cubes in her refrigerator.
Arrange Elder Care Services to Check On Her
If she's alone all day, every day, arrange elder care services. Have a caregiver available to stop and check on your mom each day or every few days. Some of the services to consider include having an elder care aide available to help take your mom grocery shopping each week.
You can have her caregiver clean the home and organize the mail. Her caregiver can cook meals, help her with personal care, and change and launder sheets and towels. Call an elder care specialist to learn more.
If you or an aging loved-one is considering Elder Care in Alhambra, CA please contact the caring staff at Nu Care Inc. today at. 800-505-6890
Sources:
https://www.cnn.com/2022/07/20/weather/us-temperature-records-cities/index.html