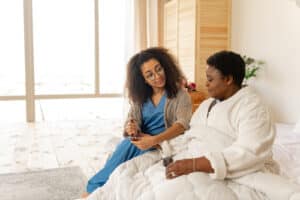 If you have a senior parent who needs some help at home but you live far away from them you may not be able to check on them as regularly as you would like. Even though you can't be there every day to help your senior parent there are some things that you can do and services that can be set up to make sure that your senior loved one is happy and healthy in their home. You don't need to uproot your life and move to where your senior parent is in order to help them and make sure they are ok. You can do these things and still keep your home and your life where you are:
Get 24-Hour Home Care
24-hour home care is a fantastic way to make sure that your senior parent is healthy and doing well at home. When your senior loved one has 24-hour home care they will never be alone. There will be a caregiver there during the day to help them cook meals, clean the house, go out and run errands of shop, and do other tasks. And at night another care provider will be there to help your senior parent get ready for bed,  help them with a CPAP or any medical equipment, and keep an eye on the home and property while your senior parent sleeps. 
Set Up Delivery Services And Car Service
These days almost anything your senior loved one needs can be delivered. Groceries, pet supplies, home supplies, medical supplies, and more can be delivered right to the door. Some services will even bring the items inside and put them in a central location. And if you set up a ride sharing service for your senior loved one they will be able to summon a car to take them to the doctor, to the store, or to a fun outing like a concert or play. And you can monitor all of those services with your smart phone or computer to make sure that your senior loved one isn't getting overcharged or taken advantage of.
Have a Security System Installed With Cameras
Modern security systems with two way cameras make it easy to talk to and see your loved one while you keep an eye on how they are doing. You can view the camera feed through an app on your smart phone and talk to your loved one easily. If your senior parent was to fall or get hurt or become ill you'd be able to summon help for them immediately while also reassuring them that they weren't alone and that help was coming.
Create A Network of Friends and Neighbors For Your Senior Loved One To Depend On
If your senior parent has lived in their neighborhood for awhile there's a good chance they already know their neighbors and the neighbors check on each other. But just in case they don't you can reach out to the neighbors and let them know that your senior parent is there alone. Most of the time the neighbors and any local friends will be happy to check on your senior parent at regular intervals to make sure they are ok.
If you or an aging loved-one is considering 24-Hour Home Care in Alhambra, CA please contact the caring staff at Nu Care Inc. today at. 800-505-6890