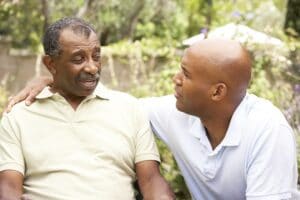 Researchers with the European Journal of Pain looked at the medical records of thousands of older adults. They were specifically looking to find the percentage of older adults who experience shoulder pain due to aging and arthritis. They found about 12.3% of older adults were affected.
Your dad's shoulder pain keeps getting worse. It's time to address the steps you can take to help him around the home. His doctor says it's arthritis, and that he should manage the pain through heating pads and over-the-counter NSAID medications. Is that enough?
What's Causing the Pain?
Your dad's doctor checked him out and said it's arthritis, so start looking for patterns. When the arthritis pain is unbearable, what has your dad been doing? If you can keep him from certain activities that aggravate the joint, it will help.
For example, the pain is worse when he's vacuumed his carpet. The motion and weight of the vacuum impact his shoulder joint. It's a good time to have someone else vacuum for him. You could stop by once a week or hire a caregiver to help your dad with housework.
Ask About Therapies That Could Help
Ask your dad's doctor about physical therapy services. Strengthening the muscles around the shoulder may help. If he does start seeing a physical therapist, make sure he's doing the recommended exercises every day. He may want you to help him with them.
Make Sure Someone Is Available to Help Him
Shoulder pain can be caused by many things ranging from rotator cuff injuries to osteoarthritis. If your dad needs surgery to fix a rotator cuff, make sure he's supported after the surgery. He'll have weeks or months of recovery ahead of him.
If there is no surgical treatment, he needs to have caregivers around to help with tasks that impact the shoulder. This includes lifting items like bags full of groceries, pushing a vacuum around, or carrying a hamper full of dirty clothes.
He may be unable to lift his arm over his head or move his arm quickly. This can make it hard to drive. It's time to talk about taking away his keys and letting someone else drive. If you have a full-time job, it's going to be hard for you, but you can hire a companion care aide to drive him to appointments, stores, and other businesses.
Companion care at home is helpful when arthritis pain makes it hard to complete daily routines. Caregivers can help your dad with things that involve shoulder strength, such as changing sheets, making beds, or doing the laundry. 
Talk to a companion care at home agency today. You'll get answers to your questions and be able to schedule caregiver visits as often as your dad needs.
If you or an aging loved-one is considering Companion Care at Home in Beverly Hills, CA please contact the caring staff at Nu Care Inc. today at. 800-505-6890
Sources:
https://onlinelibrary.wiley.com/doi/abs/10.1002/ejp.1482