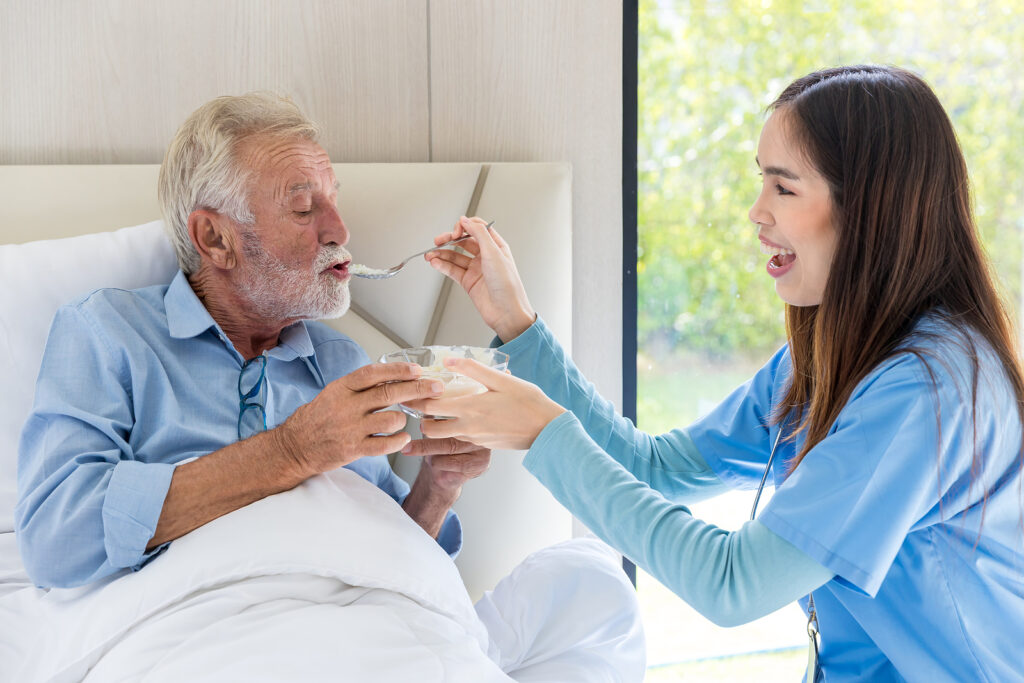 As seniors age, there are common concerns in every situation. When should seniors stop driving? Can they continue cooking safely? What happens if they're home alone and fall? Among these concerns are those associated with nutrition. With the help of home care assistance, loved ones can ensure their seniors get the proper nutrition, decreasing the risk of several common nutrition problems in seniors.
Constipation
Constipation is a common occurrence over a lifetime. It can be challenging for parents of younger children to watch them struggle with the issue. The same feelings arise when loved ones deal with constipation as they age. Studies show that 50% of seniors have bouts of constipation. This number tends to increase in out-of-home situations. There are a variety of reasons for this, including a change in mobility, a change in diet, or a change in medication.
The common denominator here is change. It's not always possible to know which changes are affecting bowel movements. Still, with home care assistance, children of seniors have the advantage of extra eyes on the situation, which often makes the reason for constipation easier to spot.
On-going constipation can lead to a variety of issues beyond the pain of constipation itself. Seniors may endure hemorrhoids, diverticulitis, pelvic muscle damage, and more. Recognizing constipation quickly can help alleviate additional issues.
Dehydration
Dehydration may also increase the risk of constipation, but it also comes with its own issues.
Unfortunately, dehydration issues might be harder to spot. This is another reason why having home care assistance is crucial. The added monitoring seniors receive, in addition to the benefits of having someone in the home to assist with cleaning, cooking, and socializing, is crucial to their ability to stay in their homes where they are comfortable.
When it comes to dehydration, the issue arises due to changes in the water content of the human body.
On average, the human body is about 60% water. This percentage changes due to age and gender, as well as hydration levels. For seniors, the water content decreases significantly for various reasons, including the ones listed below.
Being prescribed diuretics
Loss of mobility to retrieve something to drink
Loss of memory which may result in not remembering to drink
Purposeful decrease in water intake due to incontinence issues
Chronic conditions which may result in a higher risk of dehydration
Malnutrition
Malnutrition may be present due to obesity or being underweight. It is a common condition that is not always easy to notice. Knowing the symptoms and signs of malnutrition is crucial to ensuring proper care for seniors. When diagnosed with malnutrition, there is an increased risk for infections, decreased healing, and muscle or bone density loss.
Malnutrition may be present due to a lack of taste brought on by a change in medication or simply due to aging. Taste buds, appetites, and even olfactory sense change as seniors age. This can lead to decreased intake of food. Additionally, for many seniors, issues with dental health may contribute to malnutrition. If seniors have difficulty chewing or swallowing, they may shy away from certain foods or eating altogether.
When seniors face changes that affect their eating habits, they are at risk for various nutrition-related issues. With proper monitoring and assistance with maintaining a healthy diet, home care can help eliminate the risk of these issues.
If you or an aging loved-one is considering Home Care Assistance in North Hollywood, CA please contact the caring staff at Nu Care Inc. today at. 800-505-6890