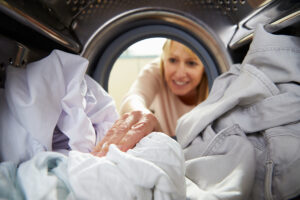 When seniors are aging in place they need to find new ways to manage doing household chores. Seniors will lose some of their strength and flexibility as they get older so making sure they are safe while they are doing household tasks is important. Otherwise they could be more likely to experience a fall at home.
Studies estimate that more than 1 in 4 seniors over the age of 65 fall at home every year. Every time a senior experiences a fall at home they are more likely to have a serious injury. Seniors who are seriously injured in falls may be in the hospital or in a rehab facility for months. With consequences that serious seniors need to know how to make household chores safer.
One way that seniors can be safe while doing household chores is not to do them. Home care assistance for seniors is household support that allows seniors to do the chores they can still do safely. The home care assistance provider will do the chores that seniors are worried about doing on their own. Laundry is often a task that seniors don't want to do. But seniors who enjoy tackling the laundry can use these tips to do the laundry safely:
Get A Rolling Cart
Carrying baskets of laundry is difficult and not that safe for seniors. A rolling cart is a much better option. Seniors can place the clothes on the cart and wheel them to the laundry using the cart as a support if they need to. When it's time to fold the clothes they can wheel the cart into the living room to watch TV and fold. Then the cart can be rolled right back to the bedroom where the clothes will get put away.
Color Code The Washing Machine Buttons
Seniors may find it difficult to read the washing machine buttons and the dryer buttons as they get older. Color coding the buttons by putting colored stickers on them is one way seniors can tell what buttons they need to push to turn the machine on or off. Large write on stickers with ON/OFF written on them can work well too. Anything that will differentiate the buttons will help seniors do the laundry.
Store Laundry Supplies In Plastic Containers Not Glass
Pretty glass jars and containers are all the rage on home design websites. But they can be a disaster for seniors who are doing laundry. Laundry supplies should be stored in heavy duty plastic containers with large handles that are easy for seniors to lift. Seniors who are crafty, or who have crafty family members, can install wall-hung soap dispensers in the laundry room. Then fill the wall dispensers with laundry soap and fabric softener so seniors can just measure out the soap and softener each time.
Install A Laundry Chute
Seniors may need home care assistance to get the clothes back upstairs. But a laundry chute can make it easier to get the clothes downstairs. Some older homes may already have a laundry chute.
If you or an aging loved-one is considering home care assistance in Burbank, CA please contact the caring staff at Nu Care Inc. today at. 800-505-6890