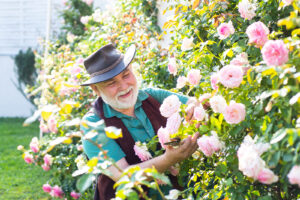 Summer is here so it's the perfect (and usually only) time to garden! Gardening can reap a multitude of health benefits for your senior so if he has a green thumb, then now is the time to get him out there gardening. He'll harvest some great crops in the fall, but he'll also harvest plenty of other rewards along the way because while gardening is about the end product, it's also about the journey one has to take to get that reward. 
Let's look at some rewards your senior can enjoy by having a vegetable garden this year. And don't worry if you haven't started one yet. Pick up some seedlings that have already started growing from your local gardening center and you and your senior will be well on your way to having a flourishing garden in no time.
Even if your loved one doesn't have the space to garden at his home, his home care provider might be able to bring him to a community garden where he can grow what he desires in a plot along with other community gardeners.
Gardening provides exercise.
If you have a little plot of a garden, your senior can get plenty of exercise by watering, weeding, and taking care of his garden. If there are some activities that he can't do, ask his home care provider to help out during their visit. Your loved one could also invite a family member over to help with some of those more physical tasks but he should be willing to get out there and get moving every day to help him receive that health benefit.
Gardening provides relaxation.
Wait, we just talked about exercise. How can it be relaxing as well? Gardening often requires a person to be mindful of what they are doing at that moment whether it's hunting for strawberries among the leaves or gently watering the soil. That mindfulness causes the mind to turn away from the anxious thoughts that sometimes get stuck on repeat in the brain or the worries of things that cannot be solved. These little breaks from mental stress allow both the mind and body to relax.
Gardening provides purpose.
Many people feel lost and alone when they have no purpose or goals to reach toward. It creates a cycle of no motivation and depression. Gardening can help your loved one find purpose again. If he sees he has a large crop of cucumbers this year, he might tend to them while thinking about giving some away. A flower garden can help him set his mind to whose day he'll be able to brighten with a beautiful bouquet from his own garden that he grew!
Gardening provides healthy sustenance.
If your loved one has a vegetable garden (even if it's just a few pots of tomatoes and peppers on the patio), the fresh veggies he can harvest at the end of the season provide wonderful vitamins and nutrients for his body and might encourage him to purchase more fresh fruit and veggies the next time he goes grocery shopping with his home care provider.
Talk to your loved one today about starting a garden!
If you or an aging loved-one is considering home care in Burbank, CA please contact the caring staff at Nu Care Inc. today at. 800-505-6890