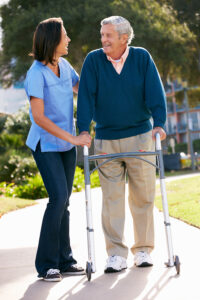 As we journey through the later stages of life, we inevitably find ourselves relying on others for support, just as we did during our formative years. However, in today's fast-paced world, staying connected and managing day-to-day responsibilities can pose significant challenges for seniors, regardless of their individual circumstances. While the idea of hiring a caregiver may initially appear daunting and reserved for those with severe illnesses, the role of caregivers extends far beyond such assumptions.
Among the wide range of services and activities that caregivers provide, companion care stands out as a specialized form of caregiving that focuses on promoting independence, fostering companionship, and improving overall quality of life. Nu Care is a leading provider of companion care services, offering personalized and affordable solutions to meet the unique needs of everyone. With Nu Care's companion care services, clients can receive the necessary support and care without having to uproot their lives or transition to unfamiliar surroundings. What sets Nu Care apart is the compassionate and personalized approach delivered by their team of highly qualified caregivers. These caregivers provide attentive one-on-one care, ensuring that clients receive the individualized attention and support they require to maintain their independence and age with grace.
Nu Care begins the caregiving journey with a comprehensive initial assessment process, designed to fully understand the client's lifestyle, medical conditions, and the level of assistance required to ensure their independence at home. This initial assessment, offered as a complimentary service, allows Nu Care to gather essential information that forms the foundation of a customized Care Plan. By gaining insights into their routines, interests, and personal preferences, Nu Care can tailor the care experience to suit their lifestyle and promote overall well-being. Moreover, Nu Care takes a holistic approach to caregiver matching, carefully considering the client's personality, communication style, and specific needs when assigning a caregiver. This attention to detail ensures that the client receives not only skilled assistance but also a compassionate companion who can build a meaningful connection and provide the best possible care experience.
At Nu Care, the commitment to quality care goes beyond the initial assessment and personalized Care Plan. Ongoing follow-up supervision is a crucial component of our services, ensuring that the care plan is effectively implemented and remains adaptable to changing needs. Our dedicated team regularly evaluates the client's progress, communicates with caregivers, and makes necessary adjustments to provide the highest level of care and support.
Choosing Nu Care for companion care services offers a multitude of benefits that make a significant difference in the lives of clients and their families. With Nu Care, individuals receive personalized support tailored to their specific needs, ensuring that their unique requirements are met with compassion and expertise. Our caregivers go beyond practical assistance, providing emotional companionship that fosters a sense of connection and well-being. By entrusting your loved one's care to Nu Care, you gain peace of mind, knowing that they are in the hands of highly-qualified professionals who prioritize their safety, comfort, and overall quality of life. To learn more about our services or to request a complimentary assessment meeting, call us today at 800-505-6890. We encourage you to experience the Nu Care difference and discover the positive impact it can have on your life and the lives of your loved ones.
If you or an aging loved-one is considering companion care in Glendale, CA please contact the caring staff at Nu Care Inc. today at. 800-505-6890