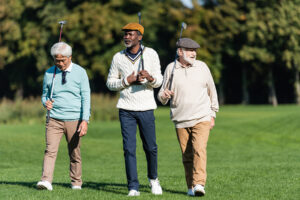 Summer is a great time to try some golfing if you've never played before. Your elderly loved one may also like to play along and from July 22-24, it's Family Golf Week so set aside some time to have some fun putting around the course.
As the caregiver of an aging loved one, you might be concerned about too much walking or too much sun for a full round of 18 holes on your local golf course. Here are some ways you can enjoy family golf week without putting your loved one in danger of getting sunburned or overly exhausted.
Slather on sunscreen. It goes without saying that no matter how you choose to celebrate Family Golf Week, make sure your loved ones are well covered in sunscreen. If your loved one has an elder care provider who helps him prepare for the day, let him know that you'll be out in the sun and have the elder care provider make sure sunscreen gets on all of those easily burned areas – the back of the neck, tops of the ears and tops of the feet.
Go in the morning or evening. Take a hard pass on those middle-of-the-day golf outings. Save that time for your loved one to relax in a nice air-conditioned home with his elder care provider playing a game. Try golfing early in the day before the sun gets its strength or at dusk as the sun is setting. This will not only reduce the risk of sunburn but also provide cooler temps.
Use a golf cart. Whether it's your elderly loved one who might get tired or young ones who can't do a ton of walking yet, a golf cart is a great way to get around the golf course without the work of walking all of that distance. The only problem a golf cart provides is everyone fighting over who is going to drive it.
Stay hydrated. A golf outing can get long, so make sure your loved one's elder care provider sends him with a large, filled water bottle to bring along. And then make sure your loved one drinks from it. Ending the course with a full water bottle means not enough water was drunk along the way and your loved one could be dehydrated. If you have a golf cart, consider bringing along a cooler to store everyone's drinks in and keep them nice and cool.
Do a half-course. You don't need to do the whole course to celebrate the day. Enjoying 9 holes and then a light lunch after is another great way to celebrate Family Golf Week.
Or go mini-golfing. Looking for a more casual and silly way to play golf? Try a little putt-putt golf at your local mini golf course. It can be a really fun way to enjoy some family time together.
Finally, don't forget to check with local golf courses to see if they have any specials or tournaments during Family Golf Week.
If you or an aging loved-one is considering elder care in Burbank, CA please contact the caring staff at Nu Care Inc. today at. 800-505-6890