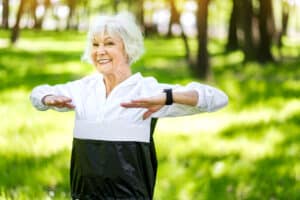 Walking is one of the best exercises for seniors. It doesn't require any special equipment except weather-appropriate clothing and a good pair of shoes. It gets seniors outdoors so they can get the health benefits of being in nature. And walking is a surprisingly good full body workout that can help seniors maintain muscle strength without a lot of strenuous movement.
The downside of walking is that it can be a little boring. And it's not really that fun to walk alone. But there are some things that seniors and their families can do to make walking more fun and motivate seniors to get out and walk like:
Home Care Assistance
One of the reasons why seniors put off walking is because of the chores that need to be done around the house. If seniors have home care assistance to help take care of the chores, shopping, meal planning and meal preparation and other tasks they can take the time to go for a daily walk. Home care assistance can greatly improve the quality of your senior parent's life as they get older. And a home care assistance provider can go for walks too which might motivate your senior loved one to get moving. 
Family Step Challenge
Create a daily step challenge for all the members of the family. Make sure that everyone has a pedometer or a fitness tracker to keep track of their steps and aim to get at least 8,000 steps a day. You can increase the number of steps gradually if you want to increase the goal to encourage everyone to walk more. Create some fun prizes like dinner at a great restaurant, gift cards, or even cash. The challenge will help your entire family get healthy including your senior parent.
Charity Walks
Charity walks are always a good time. There's a fantastic sense of community and joy when people are walking together to raise money for a worthy cause. Your senior parent can turn their daily walks into training for charity walks. Charity walks happen every month of the year all over the country so your senior parent will have no trouble finding a charity to walk for. Raising money to help those that need it and getting in some healthy exercise while socializing and making friends is going to make your senior parent much healthier and much happier.
Walking In Fun Locations 
Walking is a lot more fun in locations that are off the beaten track. Help your senior parent find local hiking trails that aren't too difficult or walking trails that will allow them to view local attractions like lakes or forests. Day trips to large parks, waterfalls, flower gardens, and other local places of interest where your senior loved one can safely walk will also make walking a lot more fun. Try to join your senior parent on some of these trips so that you can bond over a great walk. Walking is great exercise for the whole family!
If you or an aging loved-one is considering Home Care in Hollywood, CA please contact the caring staff at Nu Care Inc. today at. 800-505-6890