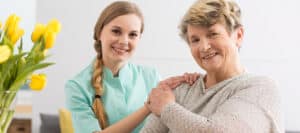 Your mom is getting older, but she doesn't want to leave her home. You worry about her being alone all day, especially when her health issues are increasing. Have you looked at having professional caregivers stop by to help her out?
Senior home care services help keep your mom in her home and independent, but she has someone helping her with more difficult tasks. How do you determine what care services are best?
What Does She Do Independently?
Watch your mom during a visit. What is she confident doing on her own? Where does she hesitate and ask for help? It's the areas where she hesitates that you should be arranging home care services for her.
If she does a great job keeping up with dusting and vacuuming but lacks confidence walking to the basement laundry room, caregivers could help her out by doing the weekly laundry. Hire them to change the sheets and towels, do all the laundry, and put things away when it's dry and ironed.
If it helps, pull up a list of activities of daily living and instrumental activities of daily living. Use those lists as a checklist to determine what care services would benefit your mom. She might struggle to keep her balance when she's stepping out of the tub, but she's okay getting dressed on her own.
Your mom may not enjoy cooking meals, so she aims for heat-and-eat items from the freezer section at her grocery store. It may be beneficial to arrange meal preparation services.
What Does She Say She Needs?
Ask your mom for input. If she could have help doing things around the home, what would she want? Does she love the idea of having someone else take over the housework that is getting harder for her to complete?
As your mom talks about what she'd like, jot down any questions she has. She may want to know more about having a caregiver helping her do the grocery shopping and running errands. She may worry about what happens if she's expecting a caregiver and no one arrives.
Can She Still Drive?
Vision impairments and medication side effects are leading reasons your mom's doctor recommends that she no longer drives. If she can't drive, she shouldn't have to give up on leaving her home. Caregivers can take her to stores, restaurants, and area attractions.
If your mom has an appointment, you can try to get the day off or let caregivers take her and share any changes in her care plan or health. Your mom's caregiver can stop and fill any new prescriptions and make sure your mom has all that she needs before bringing her back home.
Call With Questions
Once you have a list of the tasks she struggles to complete independently, gather a list of questions about senior home care. Get input from your mom and family members. Those questions are a good starting point for a conversation with a senior home care professional.
If you or an aging loved-one is considering Senior Care in Alhambra, CA please contact the caring staff at Nu Care Inc. today at. 800-505-6890