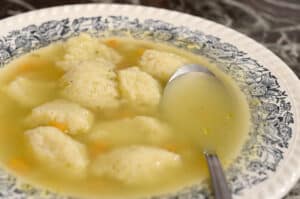 Whether you're hosting holiday parties for large groups or just having some of your friends and family over for the holidays if your senior parent is going to be there or senior relatives you should have at least some senior-friendly holiday foods for them. Many seniors can't have traditional holiday treats like candy or cookies because they are diabetic. And others may have a hard time eating holiday foods that have nuts or fillings that can be damaging to dentures.
If your senior loved one has in-home care their in-home care provider can help you choose specific foods that your senior loved one will enjoy and that they are able to eat. But when you're preparing a holiday menu and you will have a senior parent or senior relatives over consider adding some of these senior friendly holiday foods to the menu:
Pudding
Pudding is a great choice for holiday events that will include seniors because it's delicious, it's soft, it's easy to eat, and it can be made in sugar free varieties for seniors who can't have sugar. Peppermint pudding and other festive flavors of pudding will fit into the theme of the holidays and be a delicious treat for seniors. Pudding don't have to be cold. A fantastic warm holiday theme pudding is a pumpkin pie pudding made with pumpkin, spices, evaporated milk, a little biscuit mix to give it the texture of a bread pudding. It's made in the slow cooker and can stay warm for hours. It's also fantastic heated up for breakfast.
Fruit Bars
Fruit bars are a great dessert option for seniors that are diabetic. Fruit bars are almost like crumbles except they are made with low carb flours and fresh fruit so that they are lower in sugar and carbs than traditional holiday desserts. Make fruit bars in festive holiday flavors like cranberry orange and pumpkin or apple to stay in the holiday theme. They will be a delicious addition to the dessert table and give people who have special dietary needs, especially seniors, a food that fits their diet and is easy to eat.
Drinks
Holiday drinks are festive and fun. You can serve a twist on a traditional eggnog by skipping the alcohol and using sugar free almond or non-dairy milk so that seniors or others who can't handle regular milk can enjoy it. Festive punches and wassails made with fruit and spices make the holidays special and are much more appealing than just a regular soda or juice. Make them with diet soda or sugar free juice to keep the calories and sugar at low levels for those that shouldn't have a lot of sugar or carbs.
Soups
Soups are a staple food for seniors because they're nutritious and delicious but also they are easy for seniors to eat. Make sure that you're serving at least one soup  at your holiday events so that seniors can always have at least one viable food option.
If you or an aging loved-one is considering In-Home Care in Los Angeles, CA please contact the caring staff at Nu Care Inc. today at. 800-505-6890