Premium Wheelchair/Gurney Transportation
Why our transportation services?

Bedside to Bedside transfer and standby assist
All drivers are registered Home Care Aides, bonded & insured, and can relieve your staff shortage for outside trips
Affordable rates
All of our vehicles are new and reliable, on average less than one year old
We use GPS tracking and routing of vehicles so we know where our drivers are at all times
360° inside video surveillance for better protection
3-4 additional people can ride along
Available on weekends
Institution volume discount available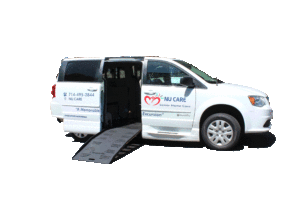 Wheelchair Accessible Vans
Seating:
1 Wheelchair and up to 4 ambulatory passengers
Specifications:
Dodge Grand Caravan with BruanAbility Conversion, ADA Compliant
Door Height: 52½", Width: 31.00″
Ramp Width: 30″, Length: 52.00″, Weight Capacity: 800, Ramp Angle: 11°
Manual Foldout Ramp, Lowered Center Floor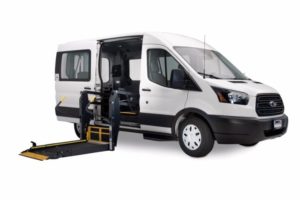 Gurney Van
Seating:
1 gurney and up to 2 ambulatory passengers
1 wheelchair and up to 4 ambulatory passengers
2 wheelchairs and up to 2 ambulatory passengers
Specifications:
Ford Transit Van
Wheelchair Lift: Braun automatic ADA lift, 34″ x 51″ platform, 600 lb
Standard gurney
FAQ's for Transportation
Do you offer transportation for stretchers?
Yes! We offer low cost stretcher service. Although we do not directly bill insurance companies, we will provide receipts so that clients can file the claim themselves. Often our rates are lower than the co-pay associated with emergency transportation.
What are your standard hours of operation?
We offer transportation regularly Monday through Friday from 8:00 AM to 5:00 PM. Our services are available 24 hours a day, 7 days a week with advance reservations. If you require transportation outside of our standard hours, there will be an additional per-trip fee.
What are my options for scheduling an appointment?
Schedule an appointment by phone, fax, email or online.
How far in advance do I need to schedule transportation?
In order to maintain reliable service, it is recommended that you make your reservation at least 24 hours in advance. If you have a last-minute need, please call Wayne (General Manager) @ 714-823-0518 and we will try to accommodate your request.
Do you offer door-to-door service?
Yes.  Better yet, since our drivers are actual caregivers, we offer full bedside-to-bedside service to meet all of your needs. We can assist with patient transfers and moving people in wheelchairs up and down stairs.
Is there a wait time?
We do everything we can to ensure that you are picked up in a timely manner. Due to the fluctuation in appointment times, there could be a slight delay in pick-up for the return trip home. You may reserve a van to wait with you at an appointment. Waiting fees will apply.
What type of vehicle do you use?
We use wheelchair/handicap conversion vans that are ADA-compliant.
Do you allow a companion?
Yes, and there is no additional fee.
How to you screen your staff?
Our drivers are rigorously screened before they are hired. This includes criminal background checks, drug screening, checking driving records, and validating professional references. Our staff members are professional, courteous, and dedicated to meeting all of your needs during transport. We will do what is needed to serve you respectfully and reliably, with your safety and comfort in mind.  All our drivers are required to be registered with the HCA and do a LiveScan.
Can you accommodate more than one wheelchair bound passenger?
Yes. We can transport up to 2 wheelchair bound passengers per van.
Do you provide transportation in any city or town?
We service most of Orange County and parts of Los Angeles County.  Please see our service map area.
I am an overweight person. Is there a weight limit for the service?
Yes. Our hydraulic lifts have a rating capacity of no more than 650 lbs.
I do not have a wheelchair. Can you provide one?
Yes. All types of wheelchairs are available. If for whatever reason you are not satisfied with the ones available, we have the ability to rent you one that will suffice.
I live on the fourth floor and my building has no elevator. Can you carry me up and down?
Unfortunately, we cannot carry a person in a wheelchair up and down a staircase due to safety and liability reasons.  Please contact your local fire department or building for further information.
If I need service now can you help?
Yes. But not always. Please keep in mind that we are a non-emergency service. We will try to dispatch your call ASAP, however we suggest to schedule a reservation as early as you can to assure timely service.
If I need to travel long distances, can you provide such service?
Yes. If the travel time is more than 12 hours, we provide two drivers for additional assistance.
My mother is handicapped. Can I travel with her in the same vehicle?
Yes of course. Our full size vans can accommodate up to 3 ambulatory (non wheelchair) passengers in addition to a wheelchair.
All of our vehicles are new and reliable, on average less than one year old
We use GPS tracking and routing of vehicles so we know where our drivers are at all times
360° inside video surveillance for better protection
3-4 additional people can ride along
Available on weekends
Institution volume discount available