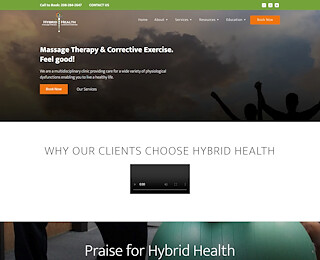 Hybrid Health is a center for massage in Boise with several positive reviews and highly skilled therapists. We offer the most therapeutic massage therapy in a high-end and relaxing setting.
Types of massages
Massage therapy comprises of several different types. Some of the massages that we offer include:
Intra-oral massage - We focus on the muscles on the inside and outside of your mouth and jaw. This treatment improves the quality of life in patients who experience frequent headaches, jaw tension, and suffer from TMJ disorder.
Deep massage - With deep massage therapy, we use slower and forceful strokes to get to the deepest layers of your muscle and connective tissue. It helps relieve pain, lowers blood pressure, reduces stress, anxiety, and breaks up scarred tissue.
Sports massage - This type of massage therapy helps athletes and sports persons prevent sprains, fractures, and strains, and helps them heal and recover from injuries in a safe way. It helps improve joint range of motion, flexibility, and decreases muscle tension.
Prenatal massage - This massage reduces the impact of pregnancy-related symptoms such as back and joint pains, edema, muscle tension, headaches, stress, anxiety, and helps sleep better.
We are a top-rated wellness center for massage in Boise with highly skilled staff and a serene environment. We offer client-focused massage therapy and ensure relief from a variety of health ailments.
What is a deep-tissue massage?
Deep tissue therapy is one of the many types of massage techniques that help treat musculoskeletal issues like strains, sports injuries, sciatica, high blood pressure, fibromyalgia, etc. It involves slow and deep strokes to produce sustained pressure. Deep-tissue massage aims to reach the innermost layers of your muscles and connective tissues and break down the scar tissue after an injury and promotes healing.
It also helps reduce tension in muscle and tissue, promotes blood circulation, and reduces inflammation. Deep tissue massage is a highly relaxing treatment that helps overcome chronic muscle pains and stiffness. It is also perfect for unwinding after a stressful or busy work week.
Top 5 health benefits of massage therapy
Massage therapy is an alternative medicine that offers a variety of mental and physical benefits. Among the benefits of massage therapy, we include:
1) Relief from postural stress and muscle pain - Individuals with a 9 to 5 desk job can often suffer from neck, shoulder, and backaches. Getting a massage once a week can relax and alleviate the tension of these muscles, reduce inflammation, promote blood circulation, and help you to sleep better.
2) Lowers stress and anxiety - Massage therapy reduces the production of the stress hormone, cortisol, and improves emotional well-being. It improves mood, reduces anxiety, and helps attain mental peace and clarity.
3) Boosts immunity - Massage therapy produces a positive impact on the immune system by promoting the production of white blood cells. It helps ward off diseases and helps improve physical wellness.
To book a massage appointment, visit https://app.acuityscheduling.com/schedule.php?owner=11465747. At hybrid Health, we offer the best massage in Boise at affordable prices.