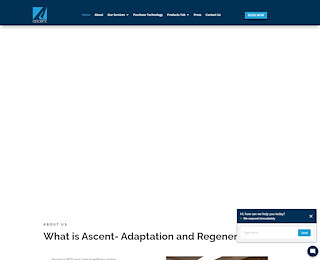 The CVAC process is based on enhancing the body's adaptive response to stressors. CVAC applies changes in air pressure, temperature and density based on a precise rhythm. These pressure changes "stress" the body at the cellular level, similar to the body's natural response to an intense workout.
What is CVAC?
CVAC is NOT a HYPERBARIC chamber. CVAC is a passive process based on the benefits created by constant and rapid pressure changes. As you sit comfortably inside the CVAC Pod, an external vacuum pump adjusts the barometric pressure inside, simulating increases and decreases at altitudes ranging from sea level to 22,500 feet (That's higher than Mount Everest Base Camp!). The entire body (blood, organs, muscle get down to every single cell) rhythmically compresses and relaxes, while peaks, plateaus, valleys and descents are viewed on the computer screen outside the capsule.
What happens during the session?
The breathed, less dense atmosphere (fresh air) produced during a CVAC session is natural and does not employ chemical means. The percentage of oxygen breathed is the same at all times.
What is the duration of therapy?
A typical CVAC session lasts a brief 20 minutes. Because of the minimal amount of time spent at each altitude, the types of negative side effects that can affect climbers ascending and descending are not a concern. Although the user does little more than sit while inside the capsule, many of the same benefits as intense exercise are obtained. In fact, CVAC Systems claims that spending up to 40 minutes in the pod just two or three times a week can improve circulation, boost oxygen-rich blood cells, eliminate lactic acid and potentially stimulate mitochondrial biogenesis and stem cell production. Experience fitness without stressing your body and joints.
Everyone can benefit from improved cellular fitness. People of all ages and activity levels are using CVAC to help improve their overall fitness without the aggressive physical exertion often associated with an exercise regimen.
Athletes who have added the CVAC process to their training regimens have gained a competitive edge with reported improvement in three vital areas of performance - recovery, endurance and power.
What advantages does CVAC provide?
Clients who use CVAC regularly report results that include:
Increased endurance
Improved alertness and mental acuity (cognitive fitness)
Reduced inflammation and swelling
Improved recovery time after exercise or other exertion
Improved athletic performance (increased VO2 Max)
Better quality sleep (deeper, more restful sleep; fewer awakenings)
Accelerated healing times and reduction of chronic pain and much more!
The CVAC process is intended to provide adaptive-based fitness. CVAC technology is not intended to be used to diagnose, treat, cure, manage or prevent any disease or other medical condition.
Contact us
Ascent Adaption and Regeneration is a company that performs regenerative therapies of the body. Using technology capable of regenerating our body making it free from pollution, damage caused by poor diet and a sedentary lifestyle. We specialize in BEMER therapies, red light therapies and Nexalin therapy.
We are not a spa or gym. We are a medical center specializing in body restoration.
We are located in Newport Beach, California. You can get more information by visiting our website www.ascentadaptation.com/ or by calling our phone number 949-474-4404.